Air Conditioner Water Heaters
Air conditioners can be used to give you hot water. A simple and inexpensive modification allows the gas in your air conditioner to circulate through a standard water heater using the waste heat from the Air Conditioner to heat the water free of charge. here we explain how it works and how much you can save.
---
See the full Fixed Abode article "Sunny Side Up" here...
---
How does an AC water Heater work?
"The hot gas goes from the compresser through a coil in the water heater, then back to the condensing unit and expansion valve.
I have oodles of free hot water. Whats more, the aircon seems to run more efficiently as it is now water cooled so probably there will be a reduction in power consumption.
Such a simple concept. Think of all that wasted energy over the nearly 40 years I have been using air conditioners." .....MW - 2/4/2010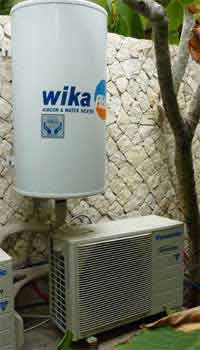 An air conditioner water heater connects into your existing standard air conditioner.
It uses the heat your air conditioner extracts from your house to heat your water instead of throwing it away to the atmosphere. For more information go here...
Features of an air conditioner water heater
1. Available in 75 and 100 litre capacity.
2. Requires no power to operate.
3. Available with 500 watt electric booster element if required.
4. 2 hours of standard operation of your AC heats your water.
5. The heater costs only a little more than a standard electric hot water heater.
6. Water tank is stainless steel with polyurethane insulation.
7. Pays for itself in 2.5 years.
8. Reduces loads on your electrical circuits.
Cost Savings from Air Conditioner Water Heaters
A standard electric water heater takes about 4.2 kilowatthours of electricity to heat a 100 litre tank of water from 24 degrees centigrade to 60 degrees centigrade. A kilowatthour of electricity currently costs 1,340 Rupiah.
If you use a tank of hot water every day this will cost you about 2 million rupiah a year. This means the air conditioner water heater will pay for itself in about 2.5 to 3 years - a considerably faster pay back than a solar hot water system which will take from 6 to 12 years to pay for itself depending on the model you buy.
A practical, easy way of reducing your electricity bills.
---
See also:
---