Air Conditioner Sales And Service
Buying an Air Conditioner
If you wish to buy an air conditioner in Bali you have come to the right place.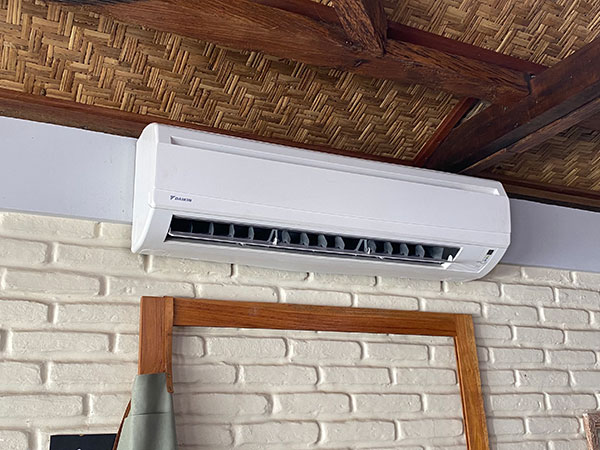 Mr Fixit offers high quality machines installed by highly experienced technicians at affordable prices.
Our air conditioners are fully guaranteed and supported by our commitment to satisfied, happy customers.
Mr Fixit have been supplying, installing and servicing air conditioners in Bali for more than 16 years. Our extensive experience can help you to select and install the most suitable and cost effective machine for your needs.
Where you place your air conditioner's internal and compressor units is very important and we can offer advice to give you optimum performance.
There are certain brands we tend to recommend however we can install whichever brand you may prefer.
---
Air Conditioner Cleaning
Regularly cleaning your air conditioner will keep you cooler and save you money.
The transfer of heat in the cooling vanes of both the indoor unit and the outdoor compressor unit is very important for the efficiency of the machine. If the vanes are dirty the transfer of heat will be impaired and the air conditioner will not cool properly and will cost more to run.
How often should you get your air conditioner cleaned?
If the room being cooled is very busy (such as a workplace) it is best to clean your air conditioner every 3 months.
In rooms that are not busy or there is not a lot of movement (such as a bedroom) clean your air conditioner every 6 months.
If you are a person who suffers from allergies or dust it is advised to clean your air conditioner very regularly.
Note: if you are getting your air conditioner cleaned make sure that the work includes both the indoor and outdoor units.
---
---
Air Conditioner Regassing
Air conditioners work using a gas known as a refigerant (often known as Freon).
If there is a leak in the cooling system refigerant may escape and the air conditioner will not cool as well.
To solve this problem we repair the leak and we regass the system by pumping new gas into the air conditioner to take it back up to it's operating pressure.
Note: It is important to check for leaks before regassing and it is also important to use the correct type of gas for your machine.
---
Air Conditioner Repairs
Modern air conditioners are very reliable machines and, if they are carefully maintained, should give you many years of trouble free service.
Sometimes they do go wrong and the most common faults are:
Gas leaks.
Burning out of the electronic circuit board that manages the machine.
Failure of the compressor usually caused by overheating.
Air conditioners are expensive but essential pieces of equipment, it is well worth repairing them if you can.
---
For comprehensive information about air conditioners see:
---
---