Blocked Toilet & Drain Services
Unblocking Toilets and Drains
A blocked toilet is usually an emergency and Mr Fixit now offers comprehensive drain and toilet unblocking and clearing services in Bali at affordable prices.
---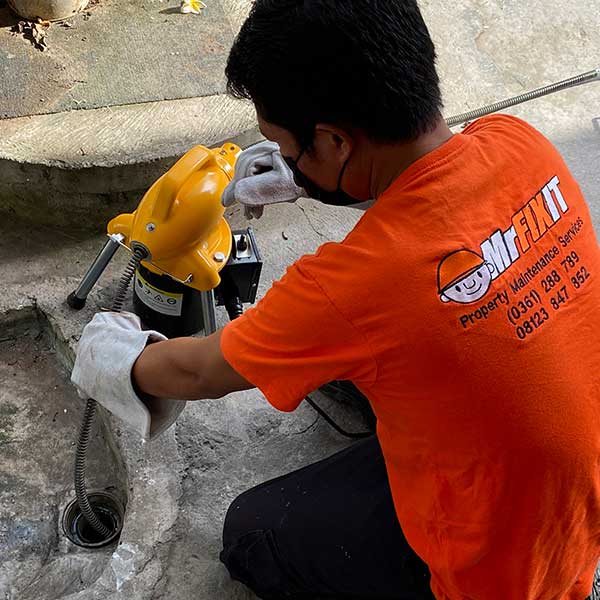 Specialist Equipment
To clear blocked drains and toilets it is important that the correct equipment is used.
Blockages may be many metres away from the nearest point of access to the pipe. If the blockage is under that beautiful terrace or lawn or near your swimming pool, digging out the pipe can be both very damaging and time consuming.
Our specialist equipment allows us to unblock pipes from the inside - a quick and easy solution with minimal damage to your property and at minimal cost.
Fully Trained Staff
Specialist equipment must be operated by professional staff
With no formal training schemes available for technical staff such as electricians and plumbers in Indonesia, at Mr Fixit we train our own staff and our company's operations are overseen by qualified engineering staff.
To achieve this, we use a mentoring process, rather like an apprenticeship system, in which new staff work alongside our older, experienced electricians and plumbers to learn the skills they will need to carry out their work. This allows us to exchange knowledge and skills but also to assess their ability to take on the responsibility and carry out the work we ask them to do
There is more to it than merely technical skills. Good tradespeople must also understand the technical concepts behind their work and they must also have the initiative to systematically analyse a problem and find and rectify the root cause rather than simply reacting to the symptoms.
---
Other Mr Fixit Services:
---
---